Welcome to Kentucky
Capital: Frankfort
Entered Union: 1792 (15th state)
Nickname: Bluegrass State
---
Hello! And please, come on in!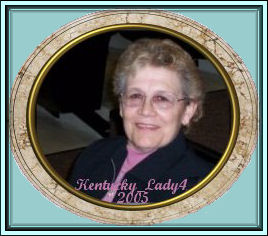 I am Kentucky_Lady4, and the I live in the
great state of Kentucky. I would love to
acquaint you a little bit with our lovely
state, and have several pages you can browse
through. I sure hope you will enjoy your
visit here, and come back often.
---
Kentucky-

According to the Indian translation, it means "Land of Tomorrow".

That is so easy to understand, with Kentucky's resources of
many free waterways, abundant wildlife, and forests of green.
Kentucky has 120 counties to make up its' state.

The Kentucky Motto is "United We Stand, Divided We Fall".



---


Bordering states are:
Illinois - Indiana - Missouri - Ohio -
Tennessee - Virginia - West Virginia


A few of Kentucky's symbols include:

State Bird: Kentucky Cardinal
State Horse: Thoroughbred
State Flower:The Goldenrod
State Tree:Tulip Poplar
State Mineral:Coal
State Butterfly:Viceroy
State Gemstone:Fresh-Water Pearl
State Fossil:Brachiopod State Wild Animal Game Species:Gray Squirrel
State Song:My Old Kentucky Home by Stephen Foster



---
---
My Old Kentucky Home

Words and Music by: Stephen C. Foster

The sun shines bright in the old Kentucky home
'Tis summer, the darkies are gay;
The corn top's ripe and the meadow's in the bloom,
While the birds make music all the day;
The young folks roll on the little cabin floor,
All merry, all happy, and bright,
By'n by hard times comes a-knocking at the door,
Then my old Kentucky home, good night!

Chorus
Weep no more, my lady,
Oh weep no more today!
We will sing one song for the old Kentucky home,
For the old Kentucky home far away.

They hunt no more for the 'possum and the coon,
On meadow, the hill and the shore,
They sing no more by the glimmer of the moon,
On the bench by that old cabin door;
The day goes by like a shadow o'er the heart,
With sorrow where all was delight;
The time has come when the people have to part,
Then my old Kentucky home, good night!

Chorus

The head must bow and the back will have to bend,
Wherever the people may go;
A few more days and the trouble all will end
In the field where sugar-canes may grow;
A few more days for to tote the weary load,
No matter, 'twill never be light,
A few more days till we totter on the road,
Then my old Kentucky home, good night!

Chorus
I had line 2 in the song as they used it originally
Now they use:
*'Tis summer, the people are gay;*
I was corrected to use the above
words by
Brian Estaff
, Robbins Music Claims Holdings.
The words above in the song are the
original way it was written.
---